Sealing Tents, Tarps, and Large Fabric Panels
Now that the panel is dry, Sealing should be done to add protection and a longer lifespan to the industrial fabric. Most modern tent and tarps are a vinyl laminate. They can be sealed with any of the awning sealing methods. The most common technique is to use the:
1

- Wear protective clothing, breathing mask and goggles. Use only in a well ventilated area. Read labels for additional cautions and directions.
2

- This method results in the quickest application.
3

- Using a hand pump sprayer, spray a light coat of the sealer using a rapid motion across the material. The sprayer should be fully pumped at all times to ensure the best atomization for a fine mist.
4

- Should the sealer begin to sag or run, use your strip washer, pinned roller, or sleeve/towel to spread out the sealer. In some circumstances, some people find it easier to squirt on some sealer and then smooth it out as seen on this awning: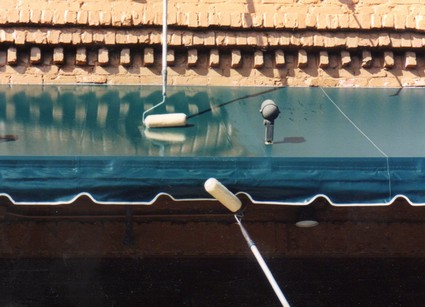 5

- With this style of application, it may require a second coat to ensure total protection. Remember two thin coats are better than one heavy coat.
6

- Any excess or build-up of sealer should be removed by wiping the area to prevent and eliminate any runs, sags, splotches, etc.
7

- Upon completion, release the pressure from the sprayer, hold the wand straight up and drain out any remaining sealer. This will prevent the sealer from deteriorating the "O" rings inside. The sprayer should be thoroughly clean and dry before sealer is put inti it.
© 2022 Awning Rejuvanation Systems International. All rights resurved 102622