"How to Seal Vinyl Awnings"
The basic difference between Universal VINYL SEALER 12 and Universal ULTRA GLOSS is in their concentration. The Universal VINYL SEALER 12 formula is 1/3 the concentration of Universal VINYL Ultra Gloss. Universal VINYL SEALER 12, on the other hand, should be used when long term protection is desired or to facilitate routine maintenance cleaning. Consider using Universal ULTRA GLOSS when a shine is required along with long term sealing. Also consider using Universal VINYL
SEALER 12 or Universal ULTRA GLOSS when the fabric will becleaned only once a year.
Keep in mind that Universal VINYL SEALERS are basically forexterior conditions. You should use A.R.S. VINYL PROTECTANT on indoor vinyl or for short term protection on outdoor material.
• Fixi-Clamp holder - Available through a local janitorial supplycompany.
• Clean, dry sponge - a car wash sponge, if possible.
• Squeegee adapter - Adapts a common Acme threaded extension pole to a taper for using Fixi-Clamp. Plastic is recommended for longevity.
• Extension pole - Height should be determined by the job needs.
• Window strip washer - always wash new sleeves several times to remove all lint. Available through a local janitorial supply
• 5 gallon bucket or pail - Make sure it's clean and dry.
• Universal VINYL SEALER 12 or ULTRA GLOSS.
• Pressurized hand pump sprayer.
• Painters towels - clean and lint free.
Method #1
1 - To seal the vinyl, simply wrap a towel around a sponge and fasten it with the Fixi-Clamp. The ends of the towel should be tied or fixed together in order to eliminate dripping or the release of excess sealer. An alternative to the towel and sponge is a non-cellulose sponge mop, strip washer, lint fre pegged (so it will not roll) paint roller.
2 - Dip the applicator into the sealer; remove excess sealer by wiping on the rim of the bucket.
3 -The sealer should be lightly applied to the surface of the material.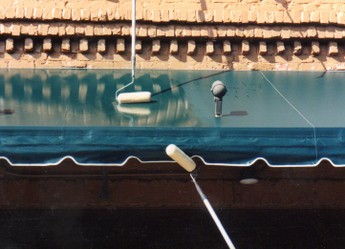 4 - Always apply and work from bottom to top.
5 - Always check to identify any areas that might have been missed.
6 - You should consider using your strip washer with a clean sleeve to ensure that the sealer is level across the entire fabric. Simply pull the strip washer in a straight line down the vinyl. This will smooth out any irregularities in the sealer and leave a uniform coat behind.
7 - Universal VINYL SEALERS are designed to penetrate into the vinyl material. The will not build up on the surface. Any excess sealer on top of the surface should be wiped off with a lint free towel. This will eliminate and prevent any unwanted smears, drips or a splotchy look from occurring.
Method #2
1 - Wear protective clothing, breathing mask and goggles. Use only in a well ventilated area. Read labels for additional cautions and directions.
2 - This method results in the quickest application.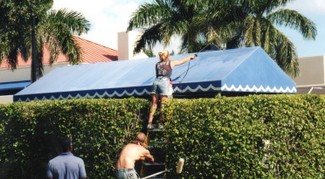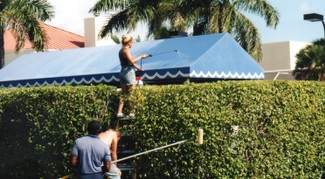 3 - Using a hand pump sprayer, spray a light coat of the sealer using a rapid motion across the material. The sprayer should be fully pumped at all times to ensure the best atomization for a fine mist.
4 - Should the sealer begin to sag or run, use your strip washer, pinned roller, or sleeve/towel as outlined in Method 1.
5 - With this style of application, it may require a second coat to ensure total protection. Remember two thin coats are better than one heavy coat.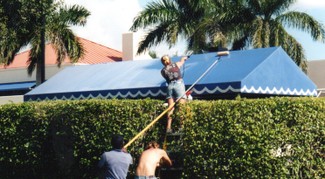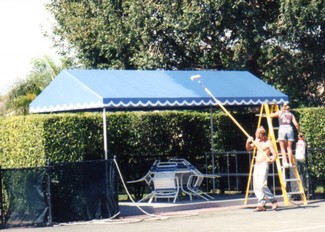 6 - Any excess or build-up of sealer should be removed by wiping the area to prevent and eliminate any runs, sags, splotches, etc.
7 - Upon completion, release the pressure from the sprayer, hold the wand straight up and drain out any remaining sealer. This will prevent the sealer from deteriorating the "O" rings inside. The sprayer should be thoroughly clean and dry before any sealer is introduced to the sprayer. Be sure to allow the cleaned sprayer to dry completely before the next use.
SIPHON GUN SPRAYER APPLICATION
1 - Wear protective clothing, breathing mask and goggles. Use only in a well ventilated area. Read labels for additional cautions and directions.
2 - If you have occasion to seal material that is not installed and on the ground, you may want to consider using a compressor driven siphon gun.
3 - When using this method, ensure that the working pressure allows for a fine, even, "wet looking" coat that does not sag, run, drip or bead up.
4 - In the event you notice any drips or sags on the vinyl, use your strip washer and sleeve/towel as outlined in Method 1.
NOTES ON THE USE OF VINYL SEALERS:
Older vinyl fabrics with the scrim showing are normally candidates for resurfacing. You must evaluate the amount of wear, tear and deterioration in order to make a judgment whether to seal or resurface. Fabrics that are dry will normally require two coats of sealer, especially if the inner threads are beginning to show. If the fabric is stretched tight, it may have curves that will not allow a strip washer and sleeve to give uniform coverage. You may want to consider taking a piece of heavy duty industrial hose and using it in your sleeve in place of the strip washer. Simply fasten it to your Fixi-Clamp thus providing the flexibility needed. If you are applying Universal VINYL SEALER to RESURFACING COMPOUND, CLEAR-COAT, or COLOR-COAT be sure that the coating or compound is totally dry; otherwise, the sealer application may remove a small amount of color. Similarly, if the fabric has been resurfaced with stripes or in different colors, avoid passing your sleeve or towel over both colors. Consider sealing over one color, then the other, using different sleeves or towels. This will eliminate the possibility of smears from any of the colors. When applying Universal VINYL SEALER to eradicable material, be sure to spot test for compatibility. Also, be extremely careful not to "scrub" the sealer on the surface. To prevent any removal or breakdown of the eradicable dyes, you should use only light passes with the strip washer and sleeve or lint free towel to smooth out any irregularities caused by sags, runs, etc. The Universal VINYL SEALER should have a rnininium of two, but preferably four, hours curing time before sundown (nightfall) or before any rainfall. Try to time and schedule your work accordingly.
Owing to the nature of Universal VINYL SEALERS and their non-stick characteristics when dry, they should not be applied to surfaces that require adhesion; such as velcro snaps and tabs, areas to which graphics and lettering will be applied, etc. Universal VINYL SEALER is an industrial sealer and will seal (adhere) to anything it comes in contact with. Do not allow it to get on windows, automobiles, vegetation or other unwanted surfaces. If you do over- spray, or accidentally seal an unwanted surface, remove it immediately. Also, cover walks, driveways, etc. If it is allowed to dry on the pavement, it will have a dry, sealed look when the rest has a "wet" look. Getting it on plants or grass will result in potentially harmful, if not destructive, results.Be very careful when spraying Universal VINYL SEALERS. Watch which way the wind blows, etc. to ensure you are coating only the material, and not the surroundings. On windy days, when you cannot spray, consider using Method 1.
In cold weather, sealers have a tendency to CRYSTALLIZE on the surface. Keep this in mind when planning and carrying out any sealing work. It is recommended that application of any sealer take place only in temperatures above 55 degrees. You should also allow at least four hours of curing time before temperatures drop below 55 degrees.